Imagine if more Americans were able to access personalized thyroid care from functional medicine practices like yours. Studies say that at least 60% of people with thyroid conditions are unaware of their illness. That's over 10 million individuals in the USA who don't even know they need thyroid care.
This unawareness is just as much a health issue as it is a marketing issue. If you could grab these patients' attention, then you could help them with functional medicine!
In this article, we're going to give you a basic strategy that you can use to market your thyroid clinic and care. We will share our favorite tips and tricks – the same ones we use for our full-service clients. The goal of SEO is simple – create high-quality blogs and website pages that draw in readers and show Google that you're an authority on functional medicine.
By tapping into SEO (search engine optimization) best practices, you can show up on Google when someone in your area searches for "Thyroid clinic near me."
Why Focus on SEO?
Functional Medicine Marketing has built our highly effective marketing program around SEO. Not social media. Not expensive ad campaigns. Why? Because SEO has proven to be one of the most effective and stable strategies for getting new patients in the door. It also gives you the freedom to focus on providing care to people who need it.
Organic search drives 1,000% more traffic than organic social.
One company compared their organic SEO traffic to comparable PPC (pay-per-click) traffic by saying, "If we were to buy that SEO traffic through PPC, it'd cost us an estimated $548,000 per month (or $6.5 million per year). "
Yes, social media can be an effective way to bring in new patients, but it requires constant effort on your part. The most popular social media accounts are run by personalities (that means you). Unless you plan to dedicate an hour a day to creating short videos, taking photos, and providing your thoughts on current trends, then you're probably not going to "go viral" as they say.
What about ads? Most practices don't have the budget to consistently run ad campaigns. Online ads are all about competition, so are you ready to outspend your competitors and local hospitals for new patients? Digital platforms are also more strict when it comes to healthcare ads because too many scam companies want to push unproven remedies.
We're not saying social media and advertising shouldn't be part of your marketing strategy. They most definitely should! But we need to think about overall return on investment. This includes both time and money. We've found that the functional medicine niche experiences the best results when they pursue organic SEO and consistently rank on the first page of Google. Once you start ranking, you won't have to continue paying money like you do with ads, and top rankings stay relatively stable over time.
Now that we've talked about why use SEO to market your thyroid keywords, let's dive into a few practical tips that you can use today.
Check Your Marketing Health With Our Free Checklist!
Focus on Thyroid Keywords
The first step of a good SEO strategy is to choose your keywords. The last thing you want to do is write multiple blogs or pages that end up ranking for the same keyword phrase. If three blogs are equally strong for the phrase "thyroid care," then Google will have a tough time knowing which ones to serve to searchers. Ultimately, you won't rank high. So, choose a wide range of keywords.
Here's how.
Diversify Keywords
Look at keywords that are related to the thyroid as well as related symptoms and conditions. As we saw earlier, 60% of people with thyroid conditions are unaware that they even have a thyroid condition. That means writing blogs and web pages on thyroid-specific topics is just the tip of the iceberg.
You'll also want to focus on writing for symptoms and conditions. A few keyword ideas include:
Why do I feel fatigued?
Causes of dry skin
Can hormones cause weight gain and fatigue?
Hypothyroidism causes
Best supplements for Hashimoto's Disease
Consider Niche Questions and Queries
SEO can be extremely competitive, and we all know how much money is wrapped up in the healthcare industry. That's why companies have invested resources into sites like WebMD and Healthline to rank highly on Google.
Small functional medicine clinics cannot compete with broad terms like "thyroid" or "thyroid symptoms." However, you may be able to rank for more specific terms and questions.
How to lower thyroid antibodies
Can stress cause thyroid problems?
Can hormone imbalance cause depression and anxiety
Thyroid support complex
Look at the data below. As you can see, the keywords with the red circle under "KD" (Keyword Difficulty) have high search volumes but will be impossible to rank for. The keywords with green circles are much less competitive and still give you the chance to attract hundreds of visitors each year.
We are not saying you should never write a blog on "where is your thyroid," for example, but don't expect to rank for a keyword this competitive.
Finally, don't worry about explaining everything about thyroid disease in one blog. Nor do you have to write the most scientific blog. People have all sorts of questions, and as long as you link your thyroid-related content to your main thyroid page, you're making progress.
Add Location Keywords
Sites like WebMD have broad phrases like "thyroid care" on lockdown. But they don't host as much content on "thyroid care in Boston" or "thyroid care in Detroit." You can use location-based language to your advantage and attract new patients.
Below, you'll see data for general "thyroid doctor" vs. a location-specific search. The chances of ranking for your area compared to nationally are very high. Put another way, do you want to attract patients from other states? Probably not.

Even if your practice is fully virtual, build up your local SEO before moving on to more general topics. People are more likely to trust your clinic when they see that it's based in their area. Consider different neighborhoods and suburbs that people might also use in search queries.
Writing a Thyroid Website Page
At Functional Medicine Marketing, we like to start our SEO efforts with cornerstone web pages. When people visit your website, we want them to know how you can help them. This means clearly listing out your services and conditions in the main menu.
The titles of these cornerstone pages are simple. In most cases, you can go with the title, "Thyroid Care in XYZ City." Why not something more catchy? Because people who need thyroid care will input this phrase into Google almost verbatim. We want to position ourselves to capture this high-intent traffic.
When it comes to your thyroid page content, make sure to cover three things:
Establish your authority
Tell people how good they will feel once they address their thyroid issues
Explain why functional medicine is often superior to conventional care
This page should be at least 1000 words long.
Write Blogs About Thyroid Conditions
After publishing your cornerstone thyroid page, it's time to focus on blogs. Blogs not only target niche thyroid keywords, but they also help Google identify your site as a subject matter authority. For technical reasons, each blog should link back to your main thyroid page.
Refer back to the thyroid marketing keyword section for ideas. But in general, you can focus your blogs on three different topic categories.

Thyroid-specific topics

Symptom topics

General wellness tips to improve thyroid function.
Finally, don't forget to post on blogs on social media! Get your website to rank faster when you drive traffic to your blogs. Always make use of cross-publication opportunities.
Optimize Your Google Listing
Your Google Business Profile or Google Listing is separate from your organic site SEO, but it's still important. If you look up "hardware store near me" or "Chinese food near me," you'll probably spend most of your time looking at Google Listings. The same is true for healthcare.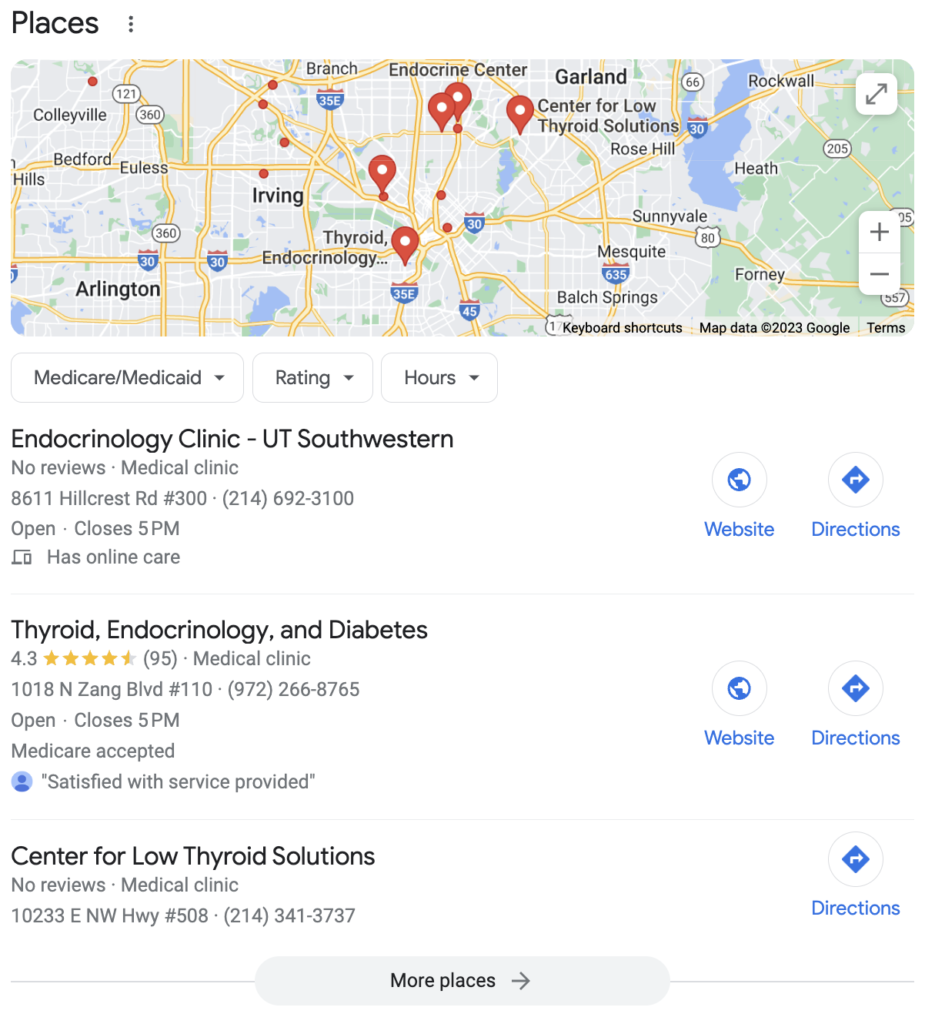 As a local SEO asset, your Google Listing is going to be much less competitive than any kind of national targeting. Look at the image below. This image shows results for "thyroid care in Dallas." The first result is for a major hospital chain, while the other two results are for clinics. The third result doesn't even have any reviews, which means there's definitely an opportunity for a competitor to come in, develop a great Google Listing, and take that front-page position.
Here are five tips to market thyroid care by improving your Google Business Profile.
Get Reviews
More five-star reviews will send positive indicators to Google
Fill Out All Information
Be as thorough as possible when completing your Google Business Profile. List hours of operation, accessibility options, location, and more.
Post Updates
Post helpful tips and service options just like you would on social media. You can even link to your website when promoting blogs, deals, and other calls to action.
Add Photos
People want to see photos of your space and team in order to make a good decision. Avoid burry or dimly-lit images. Consider hiring a professional photographer.
Complete FAQs
Add (and answer) frequently asked questions. Not only will this help potential patients learn more about your clinic, but it will also tell Google that you're a high-quality business that deserves to be ranked highly in search results.
Create YouTube Videos
Don't forget that YouTube is one of the biggest search engines on the planet (and it's owned by Google). Some patients like to read, while others like to watch videos. So, if you're inclined to educate patients using a webcam, then this might be the marketing avenue for you.
No, you don't have to do funny dances or pranks. Simply find a spot with nice lighting and a pleasant background and begin informing people about thyroid conditions.
Dr. Mark Hyman is perhaps one of the most well-known functional medicine practitioners in the world, and he leverages YouTube extremely well. No matter what you think of his approach, you have to admit he's done an incredible job growing his online community. And he doesn't do anything flashy! With a few graphics and a laptop, he's able to provide invaluable information to millions of people each year.
Check out his informational video on thyroid conditions:
YouTube is an optional strategy when it comes to functional medicine SEO marketing. Because it's so reliant on the individual doctor building an audience and developing an online persona, it's not for everyone. But if it is for you, then go for it!
Where to Start? Look at Your Competitors
We know marketing a thyroid clinic or functional medicine services can feel overwhelming. The internet is full of in-depth articles, professional videos, and "influencers." How could you possibly break onto the scene? Do you have to hire a Hollywood studio to create videos for your practice? Do you need an army of blog writers?
No!
If you're a local functional medicine practice looking to market your thyroid services, then your primary objective is to outcompete your competitors. Head to a competitor's website and take a look. Most likely, you'll notice ways they could improve their website and SEO content. Perhaps they don't have a page on Hashimoto's disease. Perhaps they don't talk about the connection between nutrition and thyroid health. It could be that their website looks a bit outdated, so maybe you're going to invest in a new website.
The goal isn't to have a perfect site. The goal is to do "a little bit more" than other local clinics. If you do that, then Google is going to rank you higher (at least when it comes to local searches like "thyroid care near me."
What About the Phrase "Thyroid Doctor?"
At Functional Medicine Marketing, we know that not every client we work with can call themselves a doctor. Practitioner is often the most accurate term. That said, use the term doctor if you hold the relevant credentials. Search terms containing "condition + doctor" attract high volume compared to "thyroid clinic" or "thyroid care."
If you are not a doctor, then don't worry. There are still many phrasings you can use to effectively market your services.
Don't Have Time to Boost Your Thyroid Care SEO? Let Us Help
At the end of the day, Google says that it rewards high-quality content with top search results. This answer can be frustratingly broad, but that's the way the algorithm works. People want to interact with relevant, well-written content that captures their attention.
There's no way to gain the system. All we can do is create functional websites and write informative articles on thyroid conditions, functional medicine, and other healthcare topics.
As you know, writing quality content takes time. Most practitioners must spend that time caring for their patients. Plus, SEO is a long game, often taking six months or a year to see significant results.
Let Functional Medicine Marketing become your trusted SEO partner. We break our services into three categories to cover all of Google's requirements:
Imagine if more people could easily find a trusted thyroid practitioner with just a few clicks. Imagine how many people you could help if your site ranked on page one of Google.
To get started, schedule a free consultation. Get a taste of our renown customer service and one-on-one treatment. With Functional Medicine Marketing, you won't get lost in the swamp of email requests. You'll get to speak face-to-face with an account manager who can answer any questions and address all of your concerns.
We hope to offer the same level of care that you offer to your patients.
Let's get started.