You have big plans for your functional medicine clinic in 2023. You're hoping to add new clients, roll out new services, and become a more prominent member of your community. You're providing an alternative option to a healthcare system that is overburdened and, frankly, broken.
But to achieve these goals, you're going to need a great functional medicine marketing strategy. This strategy should address the main challenges facing functional medicine clinics today:
Increase awareness about functional medicine. Many people haven't heard about functional medicine and need to be educated.

Stand out in a crowded healthcare market. The best marketing strategies for functional medicine will make your clinic stand out from the crowd and convince new patients to try your services.

Capture the enthusiasm of satisfied patients. We both know that functional medicine works. Your existing patients do, too! A great marketing strategy will use word of mouth to grow your practice.
Now, we're going to show you how to outline your functional medicine marketing strategy for 2023. We will cover the main platforms and media your clinic should be using to boost marketing efforts. This is a similar process we use to add rocket fuel to our clients' marketing strategies.
Ready to get started?
Grab a pen, paper, and your best brainstorming hat. Here's how to outline your marketing strategy for functional medicine in 2023.
Start with the End Goal
The best plans begin with the end goal in mind. That way, we know what we're aiming for and don't get bogged down in the weeds of "clicks," "impressions," and other metrics. For this example, we're going to assume that you want your website visitors to sign up for a free consultation or discovery call.
"Wait, but don't we want people to become patients?" Good question. Yes, that is the end goal of marketing. But digital marketing ends with the consultation sign-up. Once someone signs up for the call, then the final sale is in the hands of your medical/admin team, not your digital marketing team. Yes, you can send follow up texts and emails, but the main interactions are no longer solely online.
So for simplicity's sake, we're going to write down "discovery call" as our goal. If you have another goal, feel free to use that instead.
Now, we're going to plan out how each digital marketing platform can guide visitors toward that goal.

Blog Content and SEO
Blog content is potentially the most powerful marketing tool at your disposal. It's content that lasts forever and can bring in new patients who are searching for information related to functional medicine. While search engine optimization (SEO) research can take time, consider these three approaches to content. We've included some blog title examples, too.
Local content (Ex. "Nutritionist recommends the best organic grocery stores in Columbus")

Medical expertise (Ex. "How to health your gut")
Specific service FAQs (Ex. "Chronic disease clinics near me")
At the end of each blog, consider inviting readers to sign up for a discovery call if they want to learn more or experience health benefits for themselves.
On your 2023 marketing strategy page, list out a few blog ideas based on the bullet points above and then draw an arrow to your discovery call goal so that you remember to direct traffic there.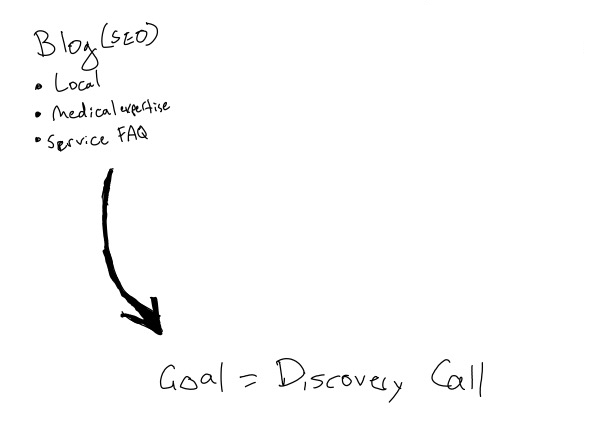 Google Ads
Want to show up on the top of Google search results anytime someone searches for "functional medicine" in your area? Set up Google Ads!
Ads will charge you a small fee per search and click. In return, you'll be seen by more people without having to create original, highly-optimized SEO content. Through ads, you can direct people to your website and discovery call signup pages.
As you plan out your Google Ads marketing strategy, write down your most popular services. These are going to be the keywords you use to create your ad campaigns. You'll want to create campaigns targeting those keywords, link them to landing pages that also feature those keywords, and start sending traffic to your site.
Since setting up and optimizing Google Ads can be somewhat complex, consider engaging Functional Medicine Marketing to help launch your ads.
Social Media Campaigns
Every demographic is on social media these days. While each platform caters to a different audience, you can't neglect social if you hope to reach as many potential patients as possible.
Don't worry, no dancing required!
We recommend that clinics create profiles on Facebook, Instagram, and Tik Tok. This last one might surprise you, but the platform boasts incredible potential for new content creators. Other platforms have complex algorithms that make it hard to break into the medical space. Tik Tok is a bit more lax – if you get views, you get bumped to the top of the feed. So give it a go!
Social media profiles can also show up in Google search results. If someone searches for functional medicine in your city, then your Facebook page could be a top result.
What should you post? Consider posting
Patient reviews
Service highlights
Health tips
Pictures of your friendly staff
Local community health events
Automated Emails
Emails may have existed before social media or Google Ads, but you shouldn't overlook their marketing power. Every clinic should make emails part of its 2023 functional medicine marketing strategy.
You might be wondering, "What is an automated email?" An automated email is an email that goes out at a specific trigger. If someone signs up for a consultation, then send them a thank you email. Perhaps you have a guide for managing chronic conditions. A guide download should also trigger an email. Pdf downloads. If you offer a service discount, make sure you're following up with people via email. You could do all this manually, but automation saves so much time.
Remember, email marketing can also be used to engage existing patients. Keep people up to date on what's going on with your functional medicine clinic. Drop occasional incentives to keep their interest.
Finally, people always ask us how many manual emails to send? We're talking newsletters and service highlights. At minimum, you should send one email a month. But some companies send two or three emails a week. Do some testing to see what works for your audience. If opens and clicks go down and unsubscribes go up, consider cutting back your email marketing.
After your brainstorming session, your page should look something like this. Feel free to go into more detail. Do what works for you. But it helps to have everything on one page since simplicity leads to more effective marketing strategies.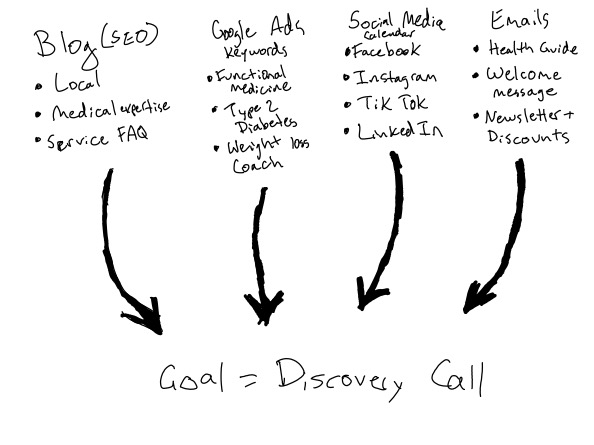 Our Team is Ready to Help You Come Up with the Best Marketing Strategy for Functional Medicine in 2023
We know you're busy. You're seeing clients, making new hires, and working to improve your functional medicine services. Functional Medicine Marketing has helped dozens of clinics across the country implement incredible marketing strategies. 
Higher revenues
Increased public awareness for your services
More lives changed through functional medicine
Our team is currently offering free discovery calls! Let's take a look at your website and marketing materials and find ways to boost your results. This quick 30-minute call could make an immediate impact on your bottom line.